Have you ever played golf with friends that want to shoot from the tips? Is there an easy way to tell what tee box I should play from? Well yes, there is a formula you can use and it works quite well.
Let me back up a bit. I play an annual tournament with my friends. In some instances, depending on how you played in prior years, you have to tee up from the tips. Fine and dandy because it is a tournament amongst friends and it gives those who have not won a fighting chance. But if your average drives are just getting over 200 yards and you are encountering a 579 yard hole, what chance do you have in making it to the par 5 green in regulation? Most likely slim and none.
There are a few different ways to figure out what tee box you should use but for ease of use, I like the following method. Go out to your driving range or indoor golf simulator and hit 10 shots with a 5 iron. For me, I do not have a 5 iron in my new golf set but I do have a 5 hybrid. Typically a hybrid might add a couple of degrees loft as compared to the iron but all should work out similarly (I know there are arguments) in-so-far as distance is concerned.
5 Iron or 5 Hybrid Distance Multiplied By 36
The calculation is your 5 iron x 36. So if you hit your 5 iron 180 yards, 180 x 36 = 6,480 and you should find a tee box closest to that number. Disregard whether it is a black, blue, gold, white, or red tee box. Many courses only have 3 tee boxes but there has been a push in the golf world to have additional tee boxes to accommodate golfers of different playing levels.
So let me give you my calculation. At the present time, I hit my clone 5 hybrid 161 yards on average. How do I know this? I use my Bushnell Launch Pro launch monitor in my golf cave along with the beta version of GSPro. A part of the software incorporates a bag mapping feature (as of the date of this writing). So you hit a number of shots with each club in your bag and it figures out the average yardage of each club. Now mind you, there would be some 123 yard shots as well as 175 yard shots in there.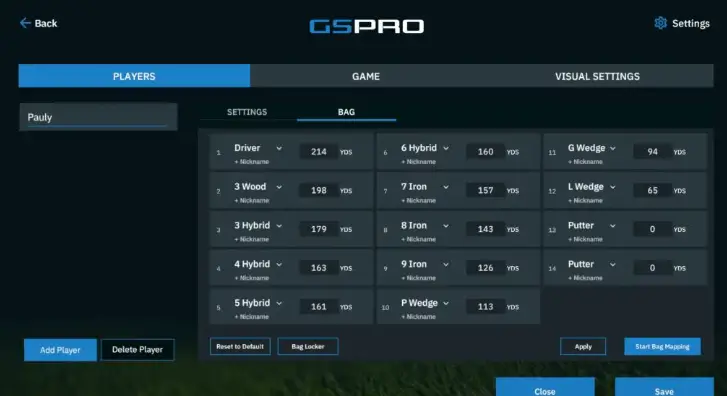 What Tee Box Should I Play From?
I should be playing off tees which are approximately  161 x 36 = 5,796 yards. So if you are wondering why I'm playing the red tees while playing Rich Harvest Farms in my golf cave, well now you know. I think the red tees are 5993 yards. By the way, Rich Harvest Farms is hosting LIV Golf Chicago from September 22nd thru 24th 2023 and I believe professionals may play from around 7600 yards.
So the next time your friends demand you play from the tips, take the above calculation into consideration and realize what may work better for your game. Sure, the back tees may offer the ultimate challenge but if it comes at the expense of shooting a high score and being frustrated, please give it a 2nd thought.