Hi. My name is Paul and I live in the farmlands west of Chicago. A nice peaceful place with plenty of wide open spaces and away from the congestion I've been used to most of my life. Prior to our move just over a year ago, we lived in a subdivision with 2300 homes. So getting around anywhere took time and when doing certain outdoor activities, you literally had to take your life into your own hands. Before our move I had one ask of my wife and that was to have room to setup a golf simulator. Mission accomplished!
I don't play golf nearly as much as I would like. Part of that is having a 9-5 job and the other part is having a family life outside of work. However at our old home I purchased a Spornia net and was able to hit some shots in the garage. I say some because with a ceiling that was a little less than 8′ tall, even this very short guy couldn't swing driver or 3 wood. Still, I enjoyed using a few golf gadgets in an attempt to figure out my swing.
While at the old house I actually built what you might call an enclosure cage off of some directions from a website which I will share later, only to realize it wouldn't fit height wise in the garage. Doh! What a stupid move that was. Still, I took everything apart with hope that I would use it again someday. So the projector I purchased, impact screen, etc… all went into a box and was going to do me no good until we moved.
I say I am an 18 handicap although my friends say I am closer to 16. Get a course anywhere past 6400 yards or so and I'm definitely at 18. I am 57 years old, about 5′ tall when I stretch (yes I'm a guy) and about 130lbs give or take. In many years past I could get some distance on my drives maybe partly because I used to be into powerlifting. I held a record in the bench press at my weight and age group approximately 20 years ago.
Still, it seems as you get older, lose strength, and don't have a heck of a lot of leverage to being with at 5′ tall, you struggle to knock the ball as far. Having said that and in another blog post, I'll maybe mention a bag mapping session I had where I learned of my distances with my clubs. Because of that I have set out to increase driver speed this year. Along different lines, when you hit ball after ball with wedges and you notice one brand of ball gives you 8000 rpm's of backspin while another gives maybe 4000 rpm's, you quickly learn which ball might work better when approaching the green.
Speaking of golf, I have to again mention how happy I am to have a golf cave.
Excuse the mess. This is a work in progress and as much of it was DIY, that will probably be another blog post.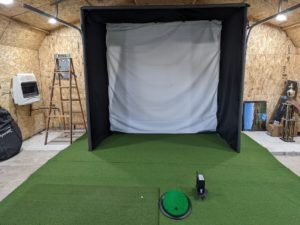 What the above allows me to do is literally play thousands of golf courses using my own clubs while in my golf shed or what I sometimes call golf cave. My golf cave was literally a carport that was sided over and garage doors put on the front and back. I'm not exactly sure of the dimensions but I can tell you it is 8'6″ tall. It works perfectly fine for me but I imagine taller golfers would not be able to swing the longer clubs, especially if they had more of an upright swing.
The golf simulator I own is SkyTrak which is photometrically based (there are some which are radar based) and keeps track of a number of factors related to the golf swing. So ball speed, back spin, side spin, launch angle, carry distance, total distance, etc… No club data but I always have an eye out for the future, so who knows. Previous to that I owned and still own an R-Motion device which attached to the club shaft. I also have a Zepp device and a Voice Caddie to keep track of certain club or ball paramaters.
Of course there is turf/carpet that you put down and maybe add an elbow and wrist friendly hitting mat. My setup uses for lack of a better word a DIY golf cage and impact screen that you hit into. There is also a short throw projector which puts the image on the screen. I just finished playing TPC John Deere and am starting St. Andrews Old Course. Here is what it looks like on video.
After our move I purchased a lot of products through Amazon and Ebay, although I went through Adorama for a projector, and Sub70 for many of my golf clubs. Online purchases were simply because we were now further from the shops, that thing called Covid and truth be told, some of the golf stores where we used to shop no longer existed. Other stores no longer carried certain lines of products so you were restricted in what you might want to purchase.
So I outfitted my golf shed with a lot of products found on Amazon and golf books found on Ebay. Something as simple as golf balls can make a huge difference in your game. Buy quality products and don't worry about having to buy a similar product in a while. Bought a storage rack only a few short months ago and some workout bands to keep, stay, and get in shape. Along the way and more of a protection of sorts, I have an ankle brace and a device to help with carpal tunnel and golfers elbow. Yes, sometimes it is heck getting older but my belief is if you stay in shape it is a lot more fun along the way.
Anywho, my hope through this blog is to highlight some items I use both playing golf outdoors as well as in my shed and just share some experiences. I've bought some really crappy products along the way but have also had some great enjoyment out of a number of things I have purchased as well.
So why the name Dawn Patrol Golf? Simply because I used to be the first golfer at a local course week in and week out. Although that course no longer exists, a buddy and I do get manage to play another somewhat local course and more often than not we are the first to play on any given Saturday or Sunday.