LIV Golf Chicago made its way to Rich Harvest Farms in Sugar Grove, IL for the second year in a row. My wife and I attended on Saturday and it was an absolute blast. Saw some great golf as well as reminders that these guys are human too and can hit the same 15 foot flub out of the rough that we see in our rounds.
LIV GOLF CHICAGO
I saw some incredibly long putts (welcome to my world) as well as approach shots from 180 yards or so that landed within feet of the cup. Kevin Na, oh yeah… he can hole out from the bunker. Maybe it was in my head but the course setup was a little different than last year. Of course it was. The Party Hole on the 17th. That was loud. That was a blast. Took some video and I wish I wouldn't have seen Cameron Smith's shot on that hole.
Over the course of a couple of days, we've been hearing the music. The night before we went to Rich Harvest Farms, we could hear Nelly. We live about 5 miles from Rich Harvest Farms and maybe 3 miles (not even) how the crow flies. So the sound travels and you know what? For just a few days out of the year, we don't mind. This 58 year old had to look up Nelly and Tiesto and then Google their songs. I'm hear to tell you, they have some pretty decent and catchy songs. That is probably a compliment coming from an old geezer like me.
Just a quick thought. This is mainly an indoor course blog only because that is where it seems I play most of my golf. I played Rich Harvest Farms on GSPro and the setup was entirely different. I thought the length would be the only thing that was different but the holes were different as well. You can catch my play of Rich Harvest Farms Front Nine and Rich Harvest Farms Back Nine if you are at all into or want to get into indoor golf playing with an indoor golf simulator.
The course, Rich Harvest Farms hosting LIV Golf Chicago was in tremendous shape. Had some recent rain which made the course and perhaps the greens a little soft but at the same time you could see backspin on approach shots have some balls rolling to the fringe or off the green. Had this tournament been held maybe 6 weeks earlier, well we were going through spells of a few weeks without rain and it would have been dry as heck.
My wife and I were lucky enough to not get hit by a golf ball by only a handful of feet, courtesy of James Piot.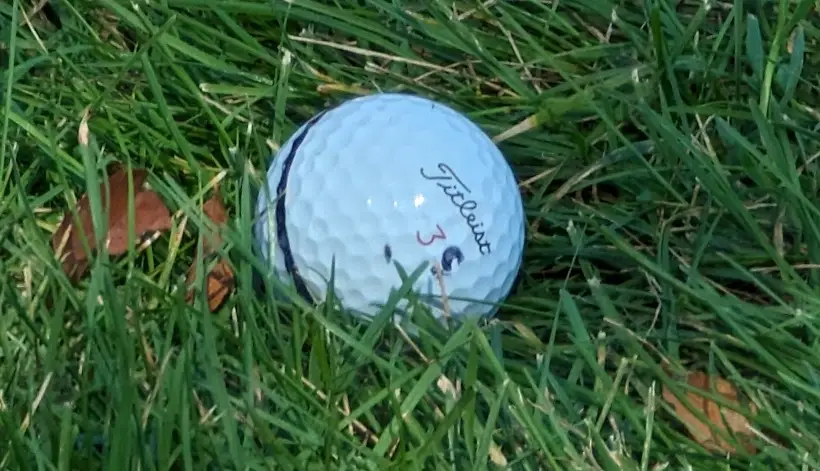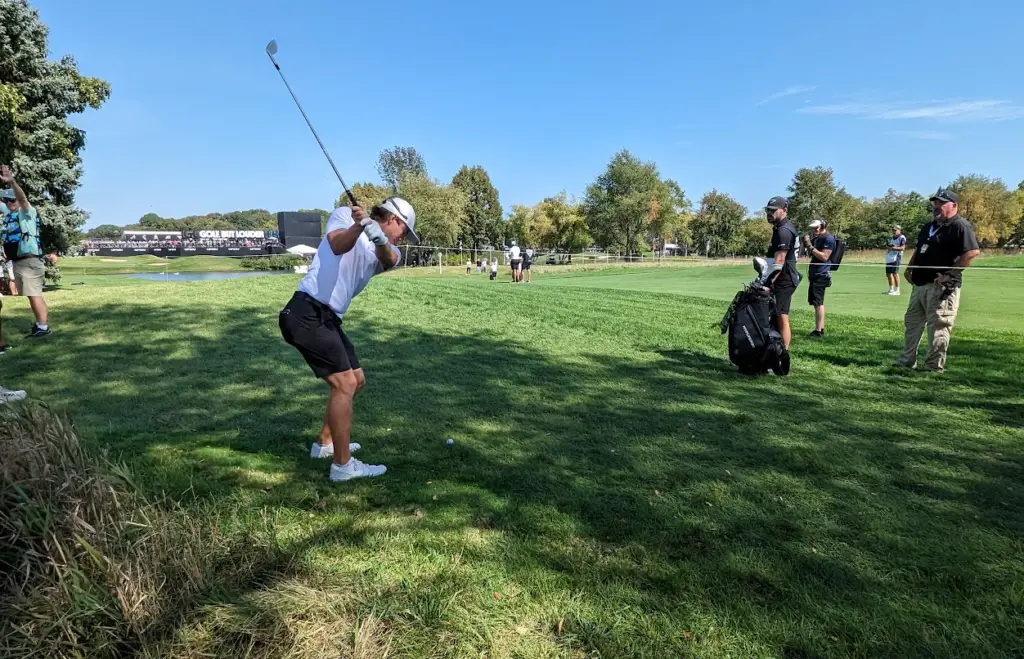 I remember last year and wandering around the course, seeking out a place or two to grab some good food. Within the course this year, the food all seemed to be the same. However as we were leaving, the vendors offering different and yummmmy food items were at that point. So pretty much as you entered the venue and as you left the venue. Same place. My wife and I ummmm errrrr picked up a beer as soon as we walked in. So my wife had a cheeseburger and I had a turkey sub (wrapped in plastic).
Note to self: Next year look for the better food items as you walk in.
Beautiful Day at LIV Golf Chicago
It was about 78 degrees on Saturday with a clear sky. Every now and then you wanted to find a tree to get some shade. The day was absolutely fantastic and the crowds seemed to be small… but then the day went on. The crowds started coming in. My wife asked who I wanted to see. Of course it was Mickelson, Dustin Johnson, Ian Poulter, Bubba, Bryson, Louie, and a few others.
We initially parked ourselves at the 14th green and just watched a few groups come in. Good way to do it because you get to see a number of players that way. We got a draw card this year so we were able to see the groupings and knew who would be coming up next. Getting that draw card is a must because otherwise you need to make sure you find a board telling you who was on that hole.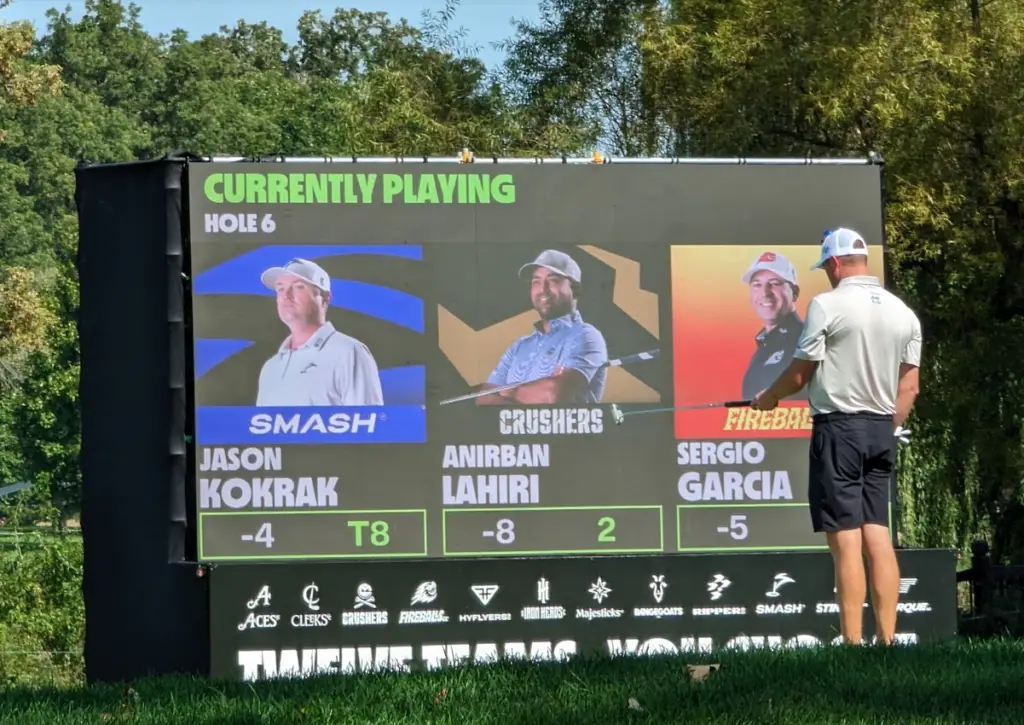 We were up in the stands when I took the following picture of the 16th green and beyond. The course was in incredible shape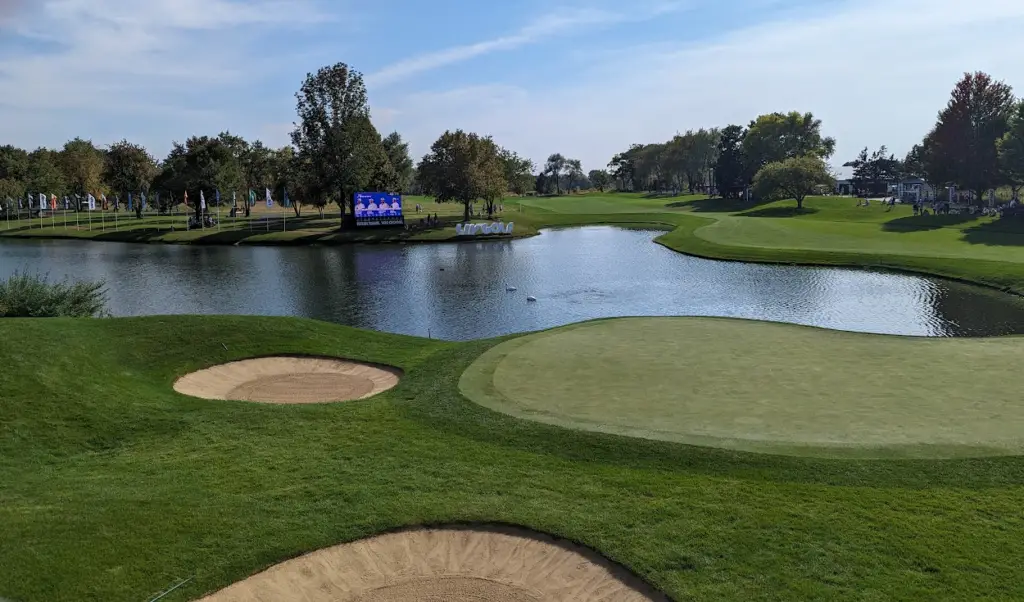 Not sure what hole we were looking at offhand. But it was a beauty.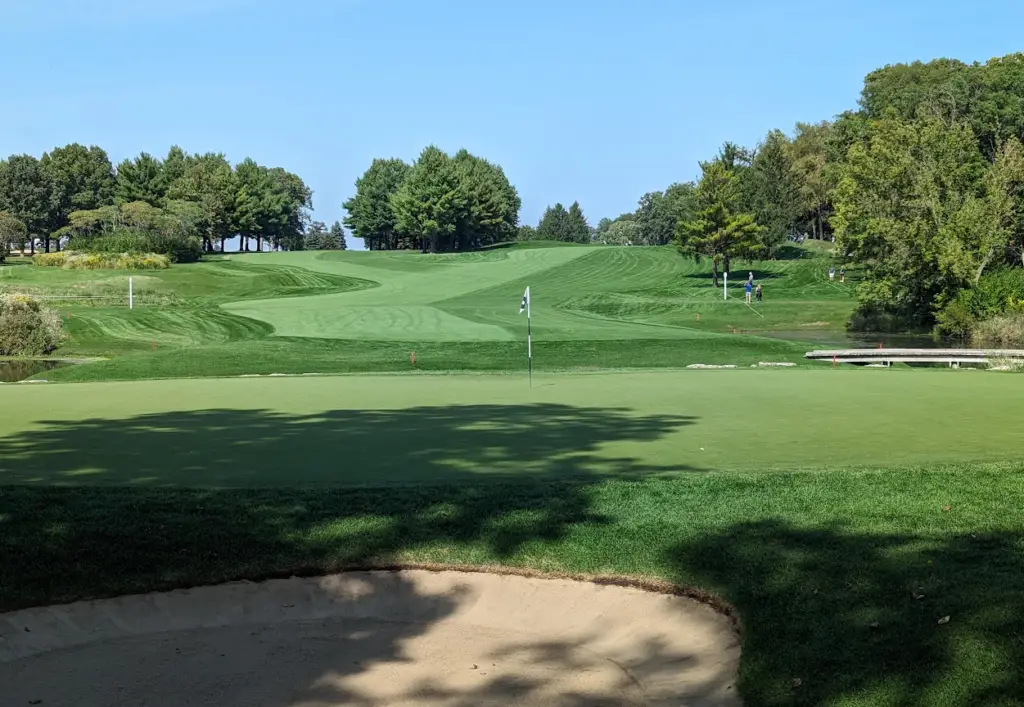 The way LIV Golf portrays the sport is fun. We're talking kids who can pet range goats. Or maybe you want to try your hand at some pitches. Looked to be an hour wait and although my wife was encouraging me, I wanted to catch ummm errrr the professionals.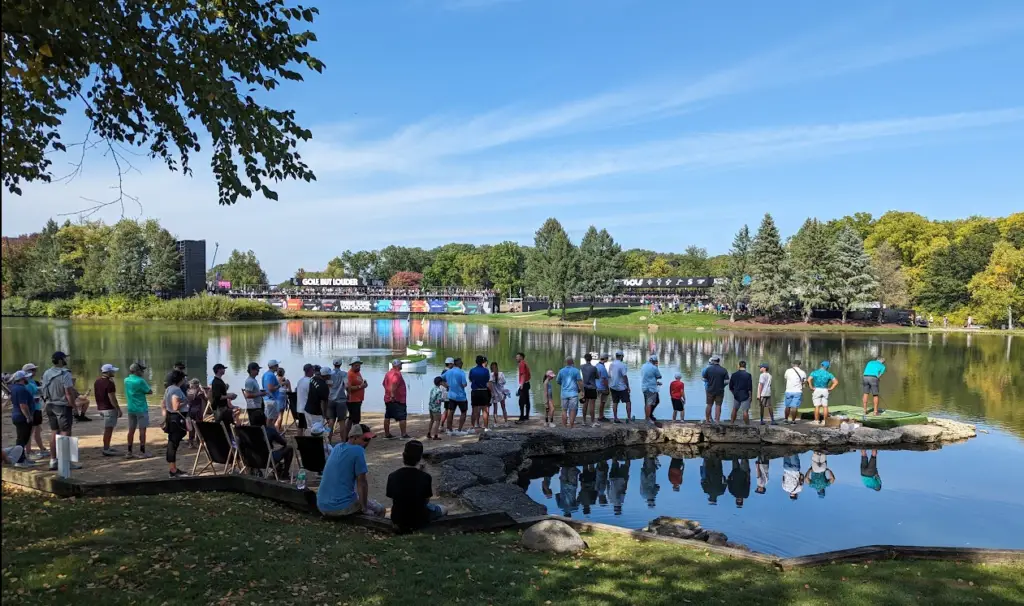 But yeah, we are here to see the golf and the players.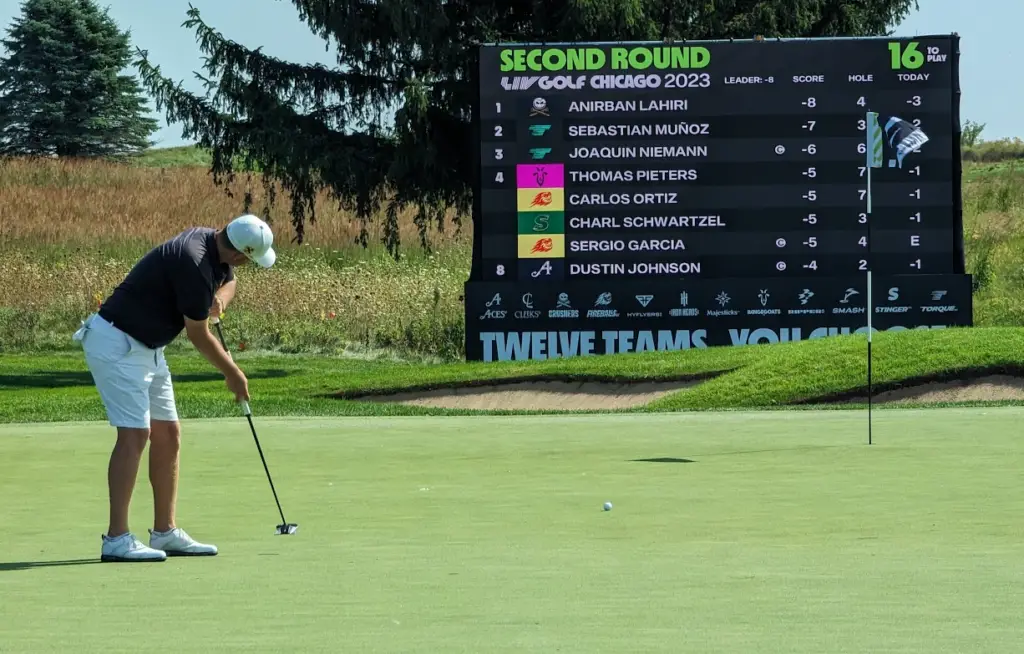 Cam Smith from across the fairway.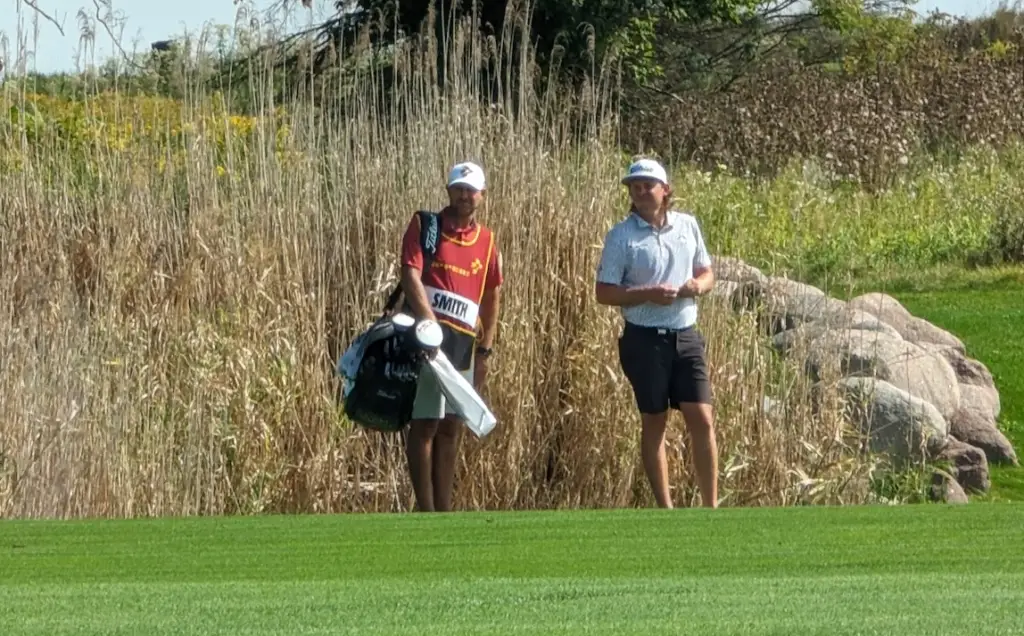 Bryson DeChambeau is always fun to watch.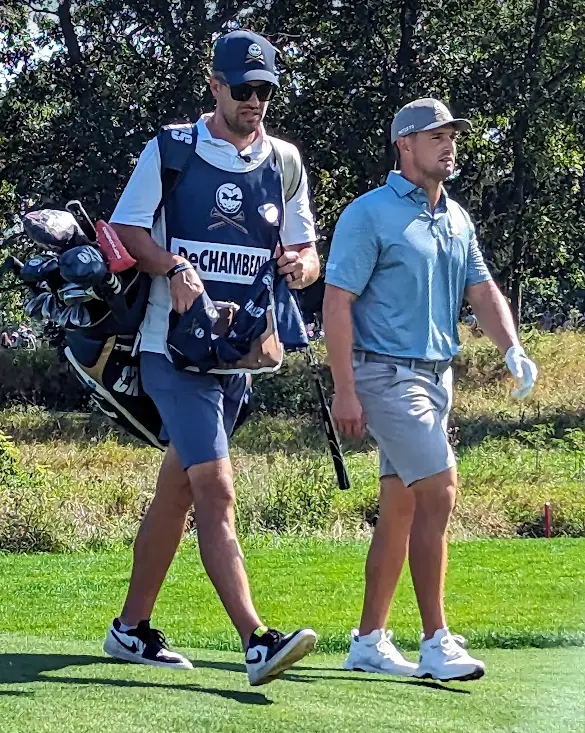 Matt Wolff. What are you thinking?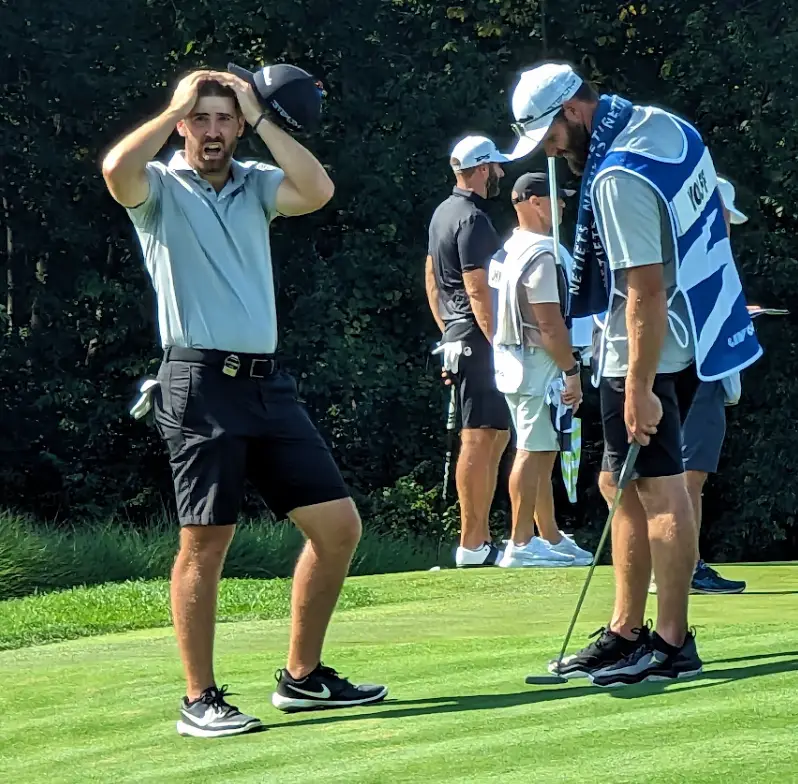 I believe we may be looking at Henrik Stenson with these next two shots.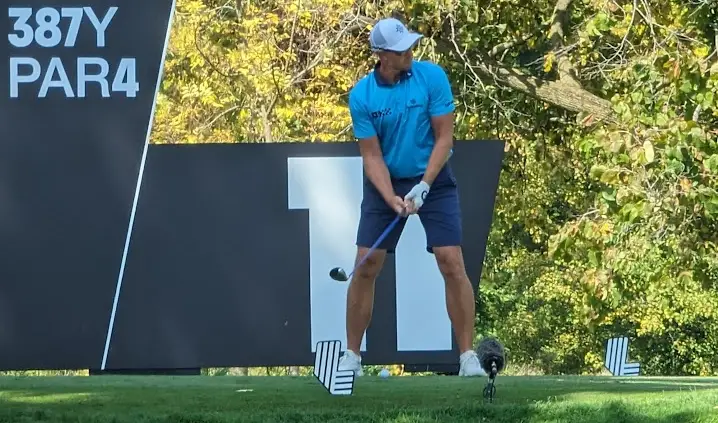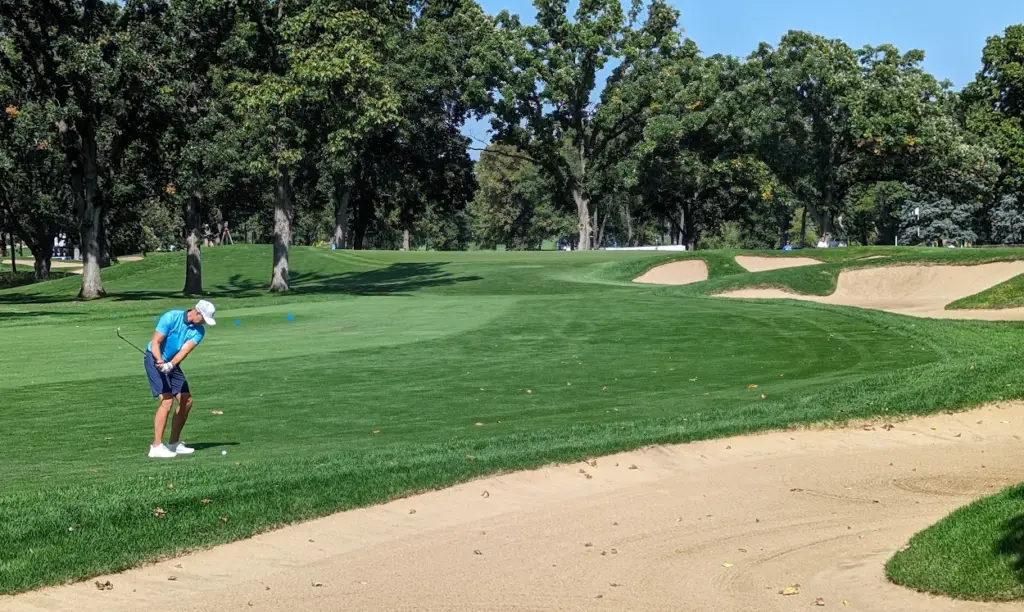 Gotta like the Range Goats and Taylor Gooch. Taylor has has a great year.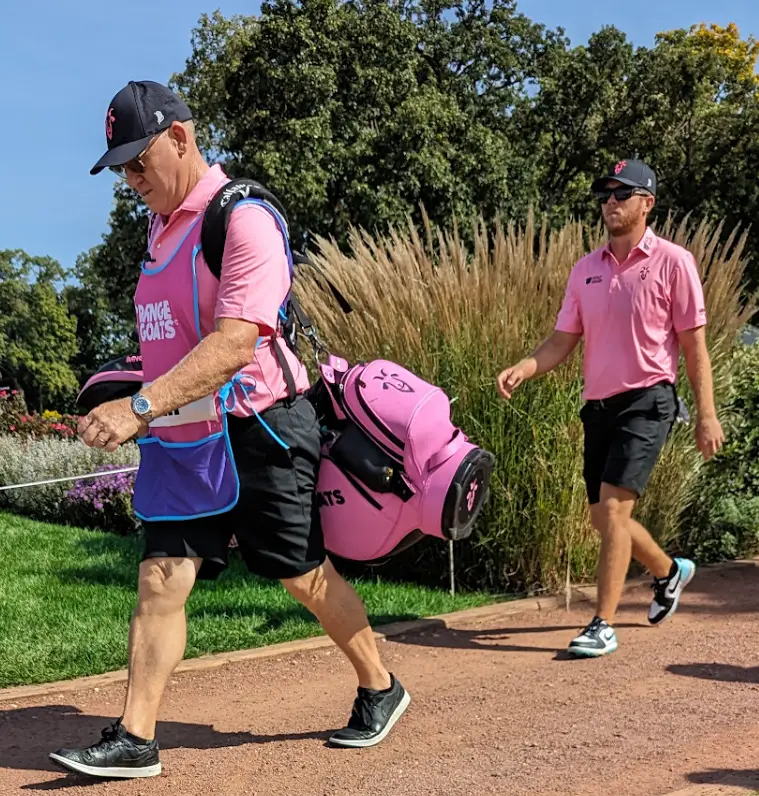 Word on the street is that Brooks is sporting a mullet. A fantastic look for the upcoming Ryder Cup.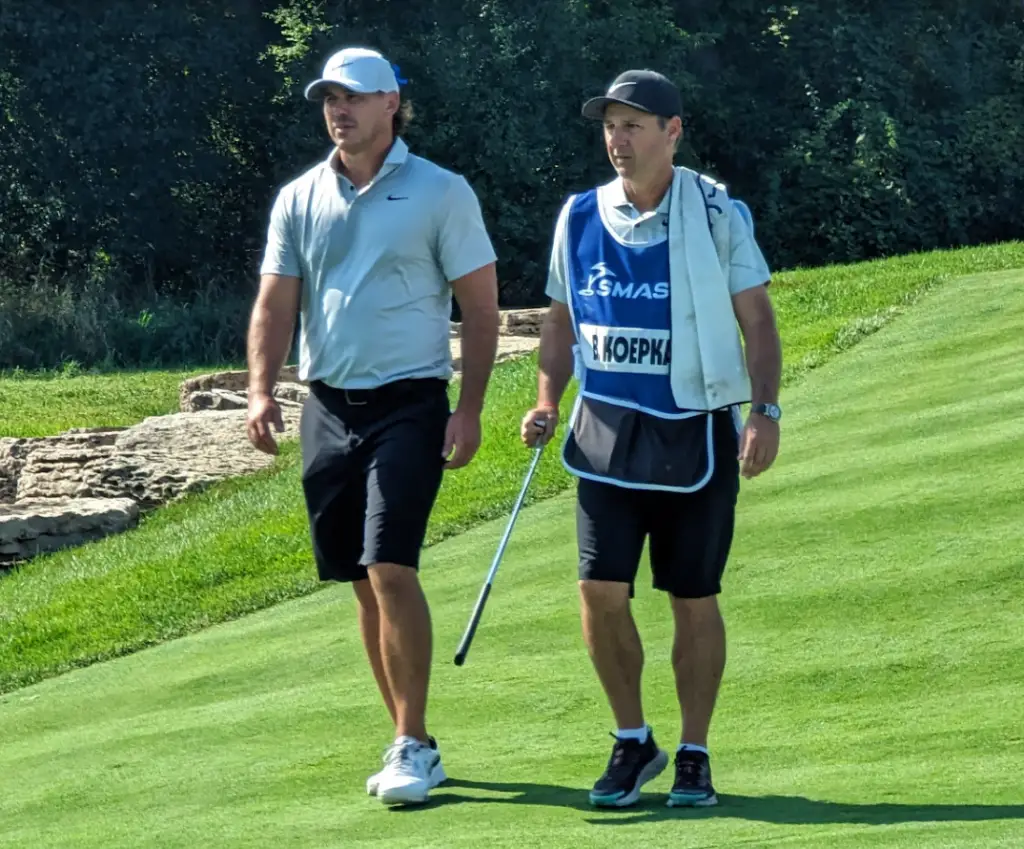 Dustin Johsnson giving a look at his driver although he was having a tough time with putter on this particular day.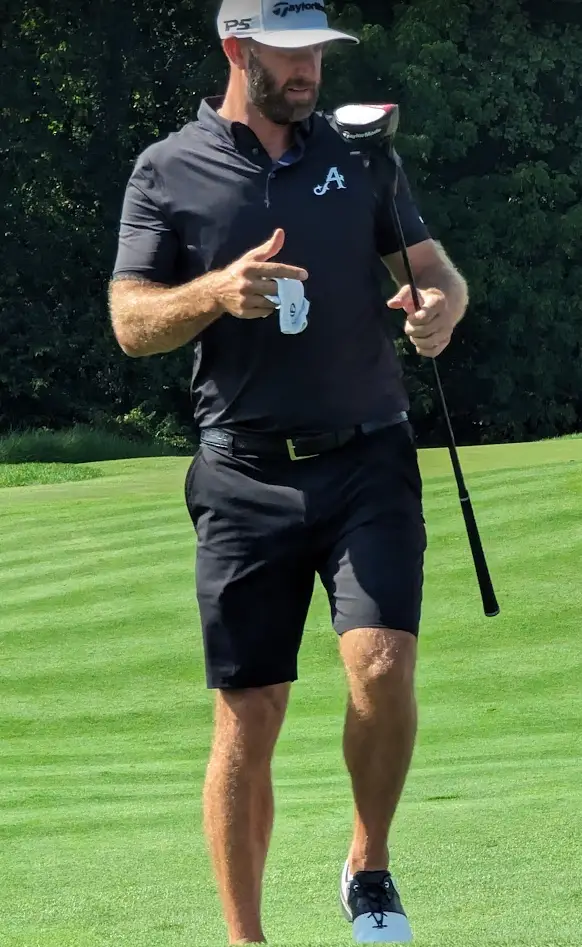 When it comes to LIV Golf, you don't say it all ends on the 18th hole. Because of the shotgun format, sure the top golfers may end on 18 or they may just end up on the
LIV GOLF Chicago Party Hole
Pick your music. The party hole was crazy. The Party Hole was the 17th and LIV Golf was kind enough to allow public access. So even with ground passes we were able to enjoy the fun with the rest of the rowdy crowd. Greg Norman showed up between a couple of groups and t-shirts were tossed out to the crowd. Wander off to the other side and you can see players hitting towards the green on the 16th hole.
Let's just say Cam Smith wasn't happy about this shot.
I apologize for the blurry pictures but I did the best I could do with a cell phone.
Plenty of golfers that I didn't mention that I caught pics of. Paul Casey. Wish I could putt like him. Patrick Reed. Consistent if nothing else and a force to reckon with. Fun to watch in match play. Ian Poulter. A class act, competitive, yet has fun with the game. Lee Westwood. Caught a couple pics of him as well as his beautiful wife Helen. Always wish Lee the best. Abraham Ancer who was playing well. Not a big guy so I can totally relate and I do dig the Fireballs logo.
I'm watching the final round of LIV Golf Chicago as I'm typing this. Bryson and Lahiri are currently tied with 2 holes to play. Four players within two shots of the lead. I'm rooting for Bryson but unfortunately he has left putts on short on two straight holes. Lahiri has now left himself a tough shot on the 18th as he missed the green. But he's grabbed his putter. Just guessing that it might be about 50 feet from the fringe. Looks like Lahiri has left his putt about 8 feet or so short. And Anirban Lahiri unfortunately missed his putt. Teammates and it is great to see Bryson DeChambeau win but you do feel bad for Lahiri. Anirban has a great game and it will only be a matter of time before he takes center stage on the podium. The 18th hole is a long tough par 4. Congrats Crushers GC. Congrats Bryson DeChambeau winner of 2023 LIV Golf Chicago.